March 19, 2021, All Day
Add to Outlook | Add to Google Calendar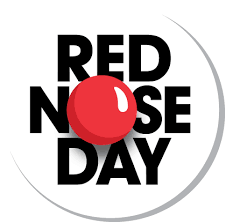 Due to COVID-19 this year's Red Nose Day will once again be virtual.  Actively spreading happiness, joy and helping those in need is critically important at this time. Red noses will be available for pick up for free in Bergenfield and Teaneck. If you want to arrange to get yours contact us at info@areyvut.org.
Red Nose Day is a campaign that originated in 1988 in Britain is dedicated to raising money for children and young people living in poverty by simply having fun and making people laugh.  On Red Nose Day people across the country come together to have fun and raise funds and awareness.  Since launching in the United States in 2015 (and we're proud to have been involved since that first year, with the generous support of millions of Americans, hundreds of celebrities, and key partners including NBC and Walgreen's, Red Nose Day has raised over $230 million.
Generally Areyvut encourages all trained Mitzvah Clowning to use their skills to actively bring joy to others. In a year not adversely impacted by a global pandemic:
We encourage all Mitzvah Clowns to participate in Red Nose Day by visiting a local senior center, children with special needs or an agency that serves a vulnerable population and put a smile on their faces!
We offer to help facilitate site visits and hope to be able to do so again for Red Nose Day 2022.
For those not yet trained as Mitzvah Clowns clowns, we partner with you to bring a training in your community.
Areyvut distributes red noses to bring joy and cheer to others in senior centers, homeless shelters and throughout the community.
we invite you to join us and help us distribute noses and actively bring joy to those in need by please contacting us at 201-244-6702 or via e-mail at info@areyvut.org.
Areyvut sells red noses for a dollar.  The noses are available at the Areyvut office (147 S. Washington Avenue, Bergenfield, NJ 07621) starting a few weeks before Red Nose Day during normal business hours and we highly recommend you call us at 201-244-6702 prior to coming in.  The proceeds from the noses will go to support our Mitzvah Clown programs which actively bring joy, smiles and laughter throughout the year to seniors and others in need of healing and a friendly visit.
If you want to request for Areyvut to vitually come present in your school, synagogue or community, on Red Nose Day please contact us at 201-244-6702 or via e-mail at info@areyvut.org.