Queens Mitzvah Clowning Training & Program
January 16, 2011 - January 26, 2011, 10:30 am - 3:00 pm
Hollis Hills Jewish Center
210-10 Union Turnpike
Hollis Hills, NY
Add to Outlook | Add to Google Calendar
Sunday, January 16, 2011

The Areyvut Mitzvah Clowning Program is coming to Queens, NY! Our newest Mitzvah Clowning Program will be starting with a training and friendly visit. Participants in the program will learn the importance and the meaning behind the mitzvah of bikkur cholim (visiting the sick).
The cost to participate in this program is $180 and includes: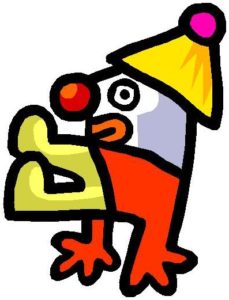 * Breakfast
* Clown costume
* Clown kit
* Transportation
* Balloons
* Balloon pump
* Clown make-up
* Participation and supplies for additional friendly visits throughout the year
Date: Sun., Jan. 16
Training Site: Hollis Hills Jewish Center
210-10 Union Turnpike Hollis Hills, NY 11364
Site Visit Location: Margaret Tietz Nursing & Rehabilitation Center 
164-11 Chapin Parkway Jamaica, NY 11432
Time: 10:30am – 3:00pm
Cost: $180
Tentative Schedule (times to be determined)
* Jan. 16
* Feb. 13
* Mar. 6
* Apr. 10
* May 8
* June 5
For more information about this program, or to start a Mitzvah Clowning Program in your community, please contact us at (201) 244-6702 or info@areyvut.org. Friendly site visit dates will be posted shortly.