Hands-on Chesed Fairs
April 15, 2018, 9:00 am - 4:00 pm
Add to Outlook | Add to Google Calendar
Free hands-on Chesed Fairs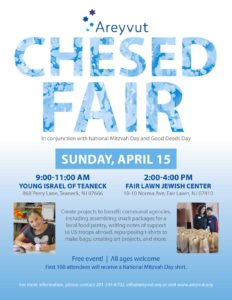 In conjunction with National Mitzvah Day and Good Deeds Day, Areyvut is hosting two free hands-on Chesed Fairs on Sunday, April 15 that are open to the community:
9:00-11:00 AM at the Young Israel of Teaneck (868 Perry Lane, Teaneck, NJ 07666)
2:00-4:00 PM at the Fair Lawn Jewish Center (10-10 Norma Ave, Fair Lawn, NJ 07410)
Both programs are geared for all ages. Projects will benefit communal agencies and will include assembling snack packages for a food pantry, writing notes of support to US troops abroad, repurposing t-shirts to make dog toys, creating art projects, and more.
The events are free, and the first 100 attendees at each program will receive a National Mitzvah Day shirt.
The program at the Young Israel of Teaneck is cosponsored by Beth Aaron, the Jewish Center of Teaneck, Netivot Shalom and Ohr Saadya.
The program at the Fair Lawn Jewish Center is cosponsored by Ahavat Achim, Darchei Noam, Glen Rock Jewish Center and Shomrei Torah.
For more information, please contact 201-244-6702 or email us at info@areyvut.org.
RSVP for This Event
Bookings are closed for this event.