Dog Lovers Delight
October 5, 2020, 9:30 am - 9:30 pm
Add to Outlook | Add to Google Calendar
Does your family love animals?
Are you looking for a family friendly activity to do together over Sukkot?
Do you have a dog and/or have family, friends or colleagues who have dogs?
Is giving back important to you?
Due to the COVID-19 pandemic, we are unable to offer in person Sukkot programs this year.  Instead we offer you an opportunity to gather with family or friends and make 25 dog chew toys.  The picture below is an example of what your completed dog chew toys can look like.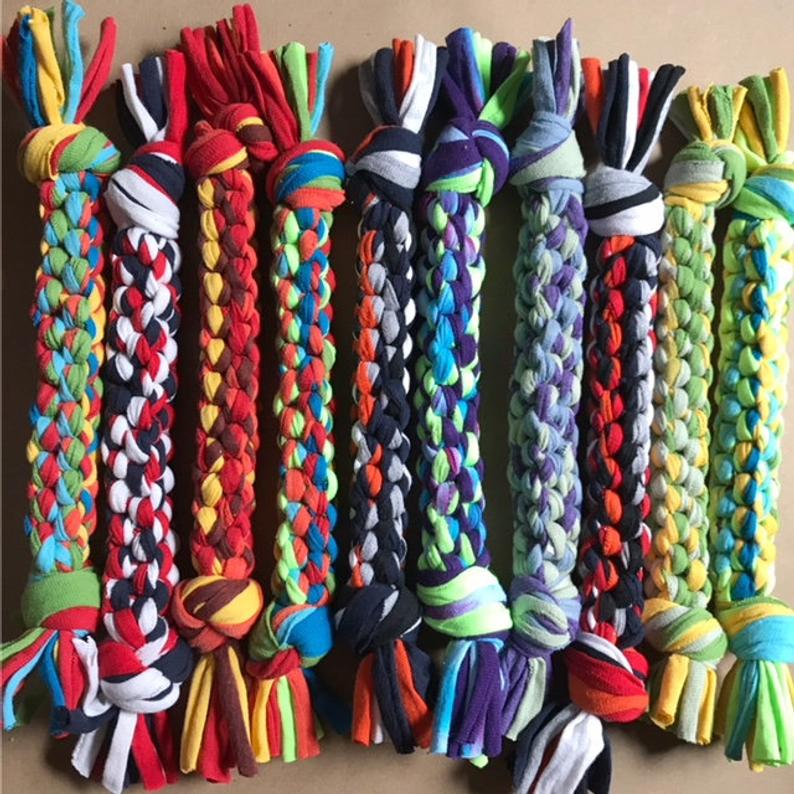 You will select three pieces, tie them together at one end and then braid the three strands and make a knot at the end.  If you don't want to braid them you can also twist the strands around.  You can keep the dog chew toys, give them to family, friends or colleagues with dogs or if you prefer give them to Areyvut who will donate them to an area shelter.
Those that order will receive further information about pickup options in Bergenfield and Teaneck.
Each bag is $18 and will have enough pre-cut strips to create at least 25 dog chew toys.
Creating dog chew toys is a great way to have fun while bonding as a family over Sukkot.
Please support our commUNITY building programs and include Areyvut in your holiday charitable giving. All donations and sponsorship's are tax deductible to the fullest extent permitted by law.   Every donation and donor is appreciated.  All donors will receive a thank you and acknowledgement letter for tax purposes.
If you post your family working on the project or your finished product to social media, please tag us @Areyvut
For more information and/or to arrange an Areyvut program in your synagogue, school or community, please contact us at (201) 244-6702 or info@areyvut.org.
Best wishes to you and your family for a Chag Sameach, continued health and success.
RSVP for This Event
Bookings are closed for this event.