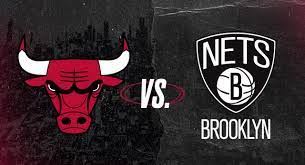 As a service to the community and to help families find a fun and meaningful Chanukah family friendly event, we are putting together a group to watch the Chicago Bulls play the Brooklyn Nets on Saturday night, December 4th at 7:30.
Tickets are $45 each in the 200 section (we do not know exactly where in the 200's but do know that they are cheaper than on StubHub) and here are a few notes:
This is the direct cost for the Nets. Areyvut is not getting anything or making a penny on this. We're doing this solely to help and serve the community.
If you want to commit to tickets e-mail info@areyvut.org and let us know how many tickets you want. Once we have a group we will share payment information.
If you have ideas or suggestions for fun and meaningful family friendly events that we can offer please let us know.
Feel free to pass this along to anyone you know who may be interested.