Areyvut's New Year's Day Carnival Extravaganza!
January 1, 2014, 10:00 am - 6:00 pm
Garden State Exhibition Center
50 Atrium Dr
Somerset, NJ
Add to Outlook | Add to Google Calendar
Wednesday, January 1, 2014
Make sure to join us for Areyvut's New Year's Day Carnival Extravaganza!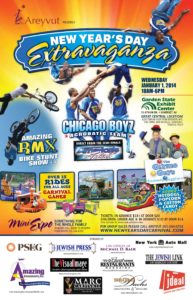 Join us on January 1st from 10am-6pm at the Garden State Exhibition Center in Somerset, NJ, for mechanical and inflatable rides, games, food, and entertainment for all ages!
By supporting Areyvut, you will be helping us raise money to further develop our programming and expand our reach in the community. The anticipate that thousands of people from throughout the Tri-State area will attend this event, and the carnival has the potential to greatly benefit Areyvut. We appreciate your support.
*All Jewish educators will receive a free ticket to the carnival! Call us today to redeem yours!*
Tickets are available now! Be sure to get yours today and give your family the New Year's Day experience they will be talking about for months to come. Also be sure to Like our Facebook page and Follow us on Twitter for exclusive ticket and promo code giveaways!
The schedule of shows is:
10:30- Gizmo Guys
11:30- BMX Stunt Show
12:30- Gizmo Guys
1:30- Chicago Boyz
2:30- Gizmo Guys
3:30- BMX Stunt Show
4:30- Chicago Boyz
5:30- BMX Stunt Show
For more information, email info@areyvut.org or call (201)-244-6702