Help Those Impacted by Hurricane Harvey
Posted on August 28, 2017
Our fiscal year ends at the end of the month. We had anticipated making a request to support our work. However, even though we need support we can't in good conscience highlight our needs when thousands and thousands in Houston and the surrounding areas are in desperate need at this time. Hurricane Harvey has been the strongest storm Houston has ever faced. Harvey's impact will be felt for years.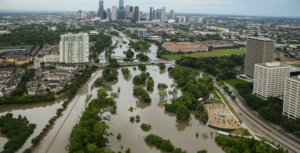 How we respond now is key. Pirkei Avot or Ethics of the Fathers teaches us: If not now, when? We must act now with a sense of urgency. Therefore we ask for every business to host a benefit to support the victims of Hurricane Harvey or to simply donate percentage of their proceeds to one of the many worthy causes tending to those in need. It is good business, will help with PR and most importantly it is the right thing to do, regardless of your business and/or economic situation. We ask you if you haven't already done this to do so or plan something concrete within the next 48 hours.
There are many credible agencies helping with the needs on the ground. Many people want to do something concrete to help. We are open to all ideas. In addition to us personally making donations to some of the agencies on the ground we encourage businesses throughout the country to help at this difficult time. We will do whatever we can to help, highlight and publicize any such events.